Programs
90 Day Trouble Free Guarantee
All Cyclefit bicycles come with our exclusive 90 Day Trouble Free Guarantee. This program covers your new Cyclefit bicycle against cable stretch, wheel truing, 1 flat tire, minor adjustments, major adjustments, first time broken parts and any labor involved to get you back rolling again. You just bought this bike, we'd like you to ride it and break it in worry free. Continue reading →
Find that perfect bike, but you are not ready to buy until later? Use the Cyclefit layaway program.
Simply let us know bike you want to layaway. Put 10% down and we will hold the bike for you. Pay the balance off within 90 days, and the bike is yours for the same as cash.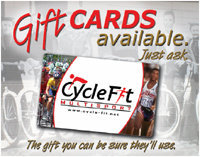 Our Cyclefit Gift Cards are the perfect "one-size-fits-all" gift idea! Neverhave I seen someone disappointed by recieveing a C-Fit Gift Card! It says; "I know you well enough to know just what you're really into and I know where the best place is to go ~Cyclefit Multisport!" Thank you very much.